Storm Of Love – Sturm Der Liebe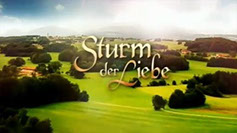 We just finishes episode 2800 of Europes – most – successful Telenovella! COMBA is part of the team who is responsible for the scoring of this loveley show.
Watch it here:
http://www.ardmediathek.de/tv/Sturm-der-Liebe/Sendung?documentId=5290

In Germany alone roughly 3 Million viewers tune in for this show everyday. For this huge production we cooperate with main composer Axel Kroell (WetWetWet, Quincy Jones, Arthur Baker,…) and an outstanding international team.
Wikipedia:
Sturm der Liebe is a German television soap opera created by Bea Schmidt for Das Erste. It premiered on 26 September 2005.
It follows in several interwoven plot threads stories about relationships taking place in the fictional five-star hotel Fürstenhof, located in Feldkirchen-Westerham near Rosenheim. The plot revolves around members of the family room area, the hotel owners, and employees.
The series began production on 1 August 2005 and was originally broadcast beginning 26 September 2005 on weekdays at 15:10…..WIKI